Tram Platforms
Kato recently introduced a couple of low-level platforms suitable for trams. There isn't much info available on these, aside from machine-translated Japanese summaries, which don't really explain much. And I thought they were interesting as possible candidates for my
One Point Five Meter Line
layout, even though that's using Tomix FineTrack and they're designed to be used with Unitrack. So I ordered a couple, and now that I've had a chance to play with them, I can provide my impressions.
Full details are on a new
Low-Level Platforms
page in the
Model Trains
section.
Kato has actually produced three new low-level platforms, but the third is for use with their Glacier Express model, and is longer (three sections plus ends) and comes with Swiss station signs and European advertising posters, so I didn't get one. It does however appear to use the same parts as the LRT Platform, except that it also includes a "type B" platform segment (roofless) in addition to the two "type A" (roofed) segments. I didn't buy one.
The photo above shows the one they're calling the LRT Low Platform Set (23-141). This is a model of a very low-level platform (2 mm above railhead; just about right for a Unitram). This is one "type A" (roofed) section with two ends. One high-level squared-off end, and two ramp ends are provided. However the ramp must be oriented to go across the tracks. There's no provision for a straight down ramp, or one angled away from the tracks.
What's a bit odd is that it's an island platform, meaning that it has two faces, but it's 30 mm wide, so it doesn't sit between parallel tracks at any of the normal spacings. It needs tracks on 50mm centers, which you can generate (approximately) with a #6 switch and a 124mm straight, but nothing else Kato has ever done has used this spacing. Overall length is just under 23 cm (9") with the ends.
Aside from the roof, a signboard, and end railings (all pre-installed) there are no detail parts to add. The usual Kato decals to apply to the signboard and track signs (part of the awning supports) are included.
Kato provides a parallel bit of roadway with ramps at both ends, so the back side of the platform can be used for a bus. It seems rather awkward in design to me. They show it being used with their DioTown short busses, apparently a typical kind of metro shuttle bus. I've shown it below with a full-sized bus (and my Tomix Tetsudō Musume Unitram), since I don't have any of the small ones.
LRT Low Platform with Unitram and Bus (not included, obviously)
The platform roof is a nearly-featureless white slab, angled down at the center just barely. It cries out for paint, as the textureless surface looks entirely too much like a sheet of styrene fresh out of an Evergreen bag. The general impression the whole thing gives me is "toylike", although the base is nicely done, and with a bit of work it could make a good station.
More promising, however, is the one they refer to as the Platform Set for Trams (23-140). This is a single platform, not sectional. Or rather it's two single platforms, one for each side of the track. Each comes with built-in ramp, and overall length is 20 cm (7 7/8"). However, each platform is only one cm (less than a half-inch) deep, making it much more prototypical for a Japanese trackside platform.
This platform comes with a ribbed orange roof, and railings, as well as a bench and double-signboard. It's slightly different from the LRT platform, in that the top is 5 mm above railhead, not 2 mm. This is typical of high-floor light-rail vehicles, like my Tokyu Setagaya and Toden Arakawa models made by Modemo.
One problem with using this with FineTrack is that it's designed to rest against the Unitrack base, and so the lower side of the platform is cut away to match the profile (see photo below). The platform is also two parts, with an upper platform attach to a lower section that provides the steps and long ramp for Unitrack use. To use it with Unitram street track this based is removed, and a thinner one without the long ramp (supplied) is attached.
Another problem with this is that Kato economized, and didn't attach railings or include the center-of-ramp yellow textured stripe on the lower section (see photo below), which makes it seem oddly unfinished. When used with Unitram street track that won't matter, but it takes away some of the value of this as a Unitrack station.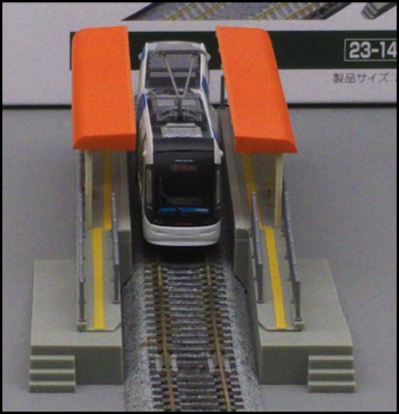 End Detail, showing stripe and cut-away profile
Overall, I like the 23-140 set much better. The level of detail just seems finer (lower base excluded) and the size is more appropriate. The height won't look right for Unitrams, particularly with FineTrack sitting 2 mm lower. But if I remove the Unitrack base, I may be able to do something with or without the Unitram base that will make it more suited to low-level use with FineTrack and a Unitram.
But even if they're flawed low-level platforms, that's more than we had before. The only other Kato low-level platform is the one that came with the original Unitram street track (sold separately as 43-730). That's similar in design to the orange-roofed platform, but without the adapters to work with Unitrack, and with a clear, curved roof and back wall, looking more like an urban bus stop, at least to my eye.
So I'm glad to have them, and expect to make good use of the 23-140. I may even buy a second one for the other end of the line.