Kato E5 Shinkansen
My newest train is the new
Kato model of the E5
"Hyabusa" Shinkansen (bullet train). This is, or more accurately will be, Japan's fastest train. It began operating in March of 2011 on the
Tōhoku Shinkansen
line in northern Japan at speeds up to 300 kph (186 mph), and has a top speed of 320 kph (199 mph), which it will start using in 2013. The train operates a limited-stop service under the name
Hyabusa
(which means Perigrine Falcon), linking Tōkyō to the very northern tip of Japan's main island of Honshu, a distance of 675 km (419 miles) in just 3 hours and ten minutes. That's an average speed of 213 km/hr (132 mph) including station stops.
Up until now the fastest trains on this line have been the 275 kph (171 mph) E2 and E3 series. The older
500 series
and
N700 series
trains on the
Sanyō Shinkansan
line in western Japan also operate at up to 300 kph, so it's not (yet) the record-holder for fastest train in Japan. And several trains in Europe plus
one in China
(which operates trains at up to 350 kph or 217 mph) already run at up to 320 kph; Japan is a bit late to this party.
Because of
track damage from the earthquake
the train is presently only operating on the southern portion of the line, but full operation could resume by the end of April.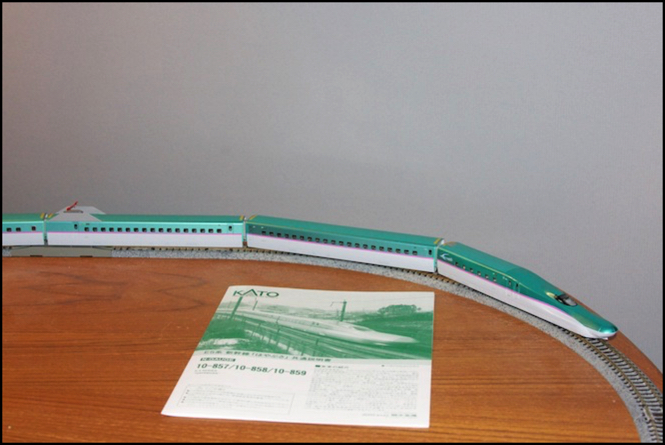 The Kato model, which was released in March to coincide with the start of operations, is sold as a base 3-car set (10-857, two cab cars and the central motor car) which, quite frankly, looks very silly when used alone. Two expansion sets are available, the 10-858 (3-car add-on Set A) and 10-859 (4-car add-on Set B). All together they create the ten-car standard consist of the prototype. This model is going to be one of the few
imported by Kato USA
, so it can be reserved through U.S. hobby stores. However even with shipping, getting it from a store in Japan (see the
Suppliers
page for some possible ones) could save you $50 or more. Note that Add-on set A includes a large green case with space to also store the starter set. Add-on set B comes with a small green case with just room for its cars. I suggest that the minimum you should get if you order this is 10-857 and 10-858 (starter and Add-on A).
One of the most interesting things about this model is that it's what Kato calls "DCC Friendly", meaning that it was designed to take their Digitrax-built EM13 DCC motor decoder and FL12 Cab Head/Tail Light decoders. However, for some reason they omit mention of this on both their Japanese and English-language pages. Kato's omitted mention of this on some new models before, but as they continue to also release new models based on older tooling, which aren't DCC Friendly, everyone assumed this wasn't going to be DCC Friendly, until it was actually received. I've already done
my DCC conversion
, which went reasonably smoothly.
The real E5 is designed to work in tandem with a Mini-Shinkansen, such as the E3, or eventually the planned E6. For that reason, one of the cabs has an operating set of nose doors, that can be opened to access the coupler. I haven't actually opened mine yet (no reason to at present), although I may end up coupling it to my E3 (at least until there is an E6) to make a 16-car train.
The design of the E5 is striking. The long-thin nose is required to reduce "tunnel boom", the sonic-boom like explosive sound made when a train exits a narrow tunnel at very high speeds. Tunnel boom is likely one reason the
Series 500
, which was designed (in 1997) for 320 kph, never operated above 285 kph on the Tōkaidō Shinkansen, and is still limited to 300 kph on the
Sanyō Shinkansan
line. And the iridescent green upper-body looks very nice. I generally don't like the look of the "duck-nose" trains, but for some reason I like this one.
All things considered, a very nice model, and one I'm glad I thought to reserve, as it sold out almost immediately, although a re-run is likely with Kato soliciting orders from U.S. stores.
Other website changes:
- I've updated the
Roster's
main page and Shinkansen page to list the E5.
- I realized that I was several months behind on adding photos of recent trains to my
Roster
photo album, so I rectified that omission.
- I also added photos of the E5 DCC install to the Decoder Photos album, as well as creating a page describing the decoder install.
- I bought a couple of Tomytec's Moving Bus system. There's
a new page describing this
, plus a video on the
Movies
page, as well as a new Other Structures photo album with some photos of it.
- I've updated the
Kato Passenger Platforms
page with info about the new V15 set I'm going to be using with my Shinkansen station, and have also added photos to the
Stations
Photo Album.