Paging Captain Nemo: Japan's Distinctive Train Designs
As I've
mentioned before
, Japanese trains are often visually quite distinctive. The train pictured above, the Nankai Railway's
50000 series
rapi:t (
reportedly
from the German word "rapid", which means just what you think) is one of the most distinctive, and evokes images of Victorian engineering and Jules Verne science fiction novels. It operates as an airport shuttle service between Osaka and Kansai International airport (about a 30-minute trip). According to wikipedia it was
designed by an architect
working with the theme of "outdated future", which suggests that he was trying to create the "futuristic" look found in early twentieth-century works such as Fritz Lang's
Metropolis
. Whatever the intent, the result is distinctive and unique, and very far from the utilitarian design that characterizes most western trains (or other machinery). The
Japanese Wikipedia
entry has more detail.
It's not just the exterior that's distinctive, as the photo below of the interior shows. Wooden floors are quite a step up from the typical airport shuttle bus. Oh, why can't the
Acela
look like that?
The model of the rapi:t was
recently re-released by Micro Ace
, and hasn't sold out yet (although it likely will soon). And despite my intention of keeping my collection focused on trains that operate in and around Tōkyō, I couldn't pass up the opportunity (I reserved mine back in July, and have been waiting ever since).
Some of that use of design probably comes simply from the fact that there are a lot of trains in Japan, and a unique look is one way to make one stand out from the others. Most of the really distinctive designs are found on trains that serve a special role, such as airport shuttles or services to resorts, which I've
previously discussed
.
Part of it may be cultural, as the Japanese are certainly willing to express themselves visually. Just consider the "life size" 60-foot-tall giant robot erected in a public park in
Odaiba
(part of Tōkyō) to celebrate the 30th anniversary of a TV series. Regrettably, it was temporary and has since been removed.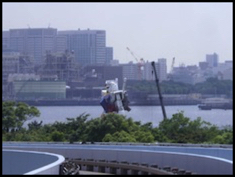 "Life Size" 18 meter Gundam in Odaiba (all photos from flickr, click for original)
The country that invented the "
giant robot
" sub-genre of science fiction certainly knows how to meld visual design with machinery.
Or, since I'm supposed to be writing about trains, consider the unique paint or decals applied to otherwise ordinary trains. Sometimes this has a clear marketing value, but other times it seems to have been done for the sheer joy of it, as witness this humble switcher operating in a welded-rail supply yard in an industrial corner of Tōkyō:
A JR East "Convex B" type switcher at Etchūjima Freight Station
Although there's no model of this, Micro Ace does have a model of a rather uniquely-painted DE10 (apparently one belonging to a factory in western Japan back in the mid-90's).
Most of the time such decoration is for marketing purposes, sometimes in the form of temporary paint or decals (much like those applied to buses, and sometimes trains, in the west). There's
a long thread on these "painted trains" on the JNS Forum
. One of the more interesting ones, a 781 painted in a submarine-theme with popular Japanese comic character Doraemon, which used to operate through the 23 km undersea
Seikan tunnel
between the Japanese main island of Honshū and the Northern island of Hokkaidō,
is being reissued by Micro Ace next month
. It's not quite my thing, but it is cute. The train was, per
Japanese Wikipedia
, discontinued and scrapped in 2006. For more photos of such trains, see this
Pink Tentacle blog entry
on painted trains.
Some examples of the use of paint on otherwise ordinary trains include:
Izukyū Railway's 2100 in "Black Ships Train" paint.
Micro Ace
makes a model
of this (in stock at Hobby Search at present).
The Fuji Kyūkō Line's Fuji-san Express.
Kato
makes a model
of this (currently in stock).
On a less whimsical note, some examples of distinctive train design include:
JR East's Super View Odoriko 251-series trainset
Kato
makes a model
of this (in-stock at present).
JR East's Old (251 series) and New (E259) Narita Airport Express Trains
Kato makes models of both the
old 251 series
(sold out) and the
new E259
(presently out of stock with the new run for January already wait-listed). It's likely that both will eventually be re-issued. Tomix made a model of the 253, but it's been sold out without re-issue for a long time. The E259 is considered special even in Japan; it won the Blue Ribbon award issued by the Japan's
Friends of the Railway
organization for Best Train of 2010.
JR West's
500-series
Shinkansen
Kato
made a model
of this (sold out) and
Tomix did also
(likewise sold out at present).
And the newest example, JR East's new
E5 Shinkansen
, due to enter service in March of 2011.
There isn't a model of the E5 out yet, but despite my dislike of the "duck nose" style (required to reduce the noise-causing shockwave created by trains exiting narrow tunnels at 300 kph), I'm pretty sure I'll end up with one.
My interest in Japanese trains was sparked by the not-at-all distinctive
E231 Series commuter train
, which to be honest, is just a box on wheels. But despite that and its variants still being the core of
my collection
, I do enjoy these designs as well.
Update: I forgot to note that all photos above (except my model) come from Wikimedia or Flickr, and were licensed in a manner compatible with their use here. Click on each to link to the original with attribution of the creator.
Update 2: fixed the spelling of "Rapi:t" (I had it "rap:it" on this posting only, for some reason, duh!). Although wikipedia uses lower-case for the "R", and the logo on the train is in a font that appears to be all lower-case, the Nankai Electric Railway's
English-language site
uses a capital "R" consistently in the name.
Other website updates:
- I've updated my
Roster
, Limited EMU, and
Reservations
pages to reflect my latest acquisitions, the above-noted rapi:t and a Kato 189 Nikkō-go train (similar to the recently arrived 485 Nikkō/Kinugawa).
- I've added several photos to my Train Photos album.
- I've updated my pages on Kato's modular skyscrapers with some new photos showing the interiors (just waiting to have details added), and also put those on the Structure photo album.
- I've added some electrical diagrams to the Unitrack Special Track and Tomix Finetrack pages showing the power wiring (polarity) of the parts of various kinds of switches. These have also been added to the Diagrams photo album.
- I added a page on Soldering Basics to my Electrical section, as I needed a place to jot some notes on that topic, and I realized I'd never created a page I could use for such information.
- I've added a few new links (mostly for model companies, which I hadn't had before) to my
More Links
page.
== Comments added from old system:
Friday, November 26, 2010 - 02:15 AM
quinntopia
Wow, thanks for the interior photos of the Rap:t! I expected something much more traditional on the inside...I was not expecting that level of design on the interior. Amazing.
Looks like you and I both had the same train on our minds on Thanksgiving! Thanks for post covering the great designs from Japan!
Friday, November 26, 2010 - 11:05 AM
KenS
Quinn,
I'd been meaning to post about the train as soon as it arrived and I could take photos, but I was a bit busy earlier in the week. When I saw your post, I decided that a simple report about it would be redundant, so I used it as the jumping-off point for a post about train design instead.
I hadn't seen the interior photos before yesterday myself. They turned up in a search for photos of the train, and then I discovered they were linked to from the Japanese Wikipedia entry for it (there are actually several interior photos there). One of these days I'll have to do a page on train interiors.
And I managed to misspell "rapi:t" throughout the post. Duh!
BTW, just to be clear, all photos other than my model aren't mine, but come from Wikimedia or Flickr. If you click on them they link to the original source. I should have noted that in the post.
Friday, November 26, 2010 - 12:55 PM
quinntopia
Its funny, I played down the whole 'design aspect' of this, so I'm glad you covered it! I learned a lot, I think you make some really great points about Japan and visual expression! I also added a link in my post on the Rap:t to your post for folks wanting to know more about this train. Good stuff!