Kato DE10
Kato's
DE10 freight locomotive
isn't new; they came out a year ago. But they promptly sold out, and I hadn't been able to get one until just recently. There are two versions, a "warm region" model and a "cold region" model that adds circular windshield wipers and a small snowplow. Both versions operate in the Tōkyō region.
This particular model appears to be of a JNR-era (pre-1987) DE10, as it comes equipped with racks on the end railings for steam generator lines (the red plastic on the white railings in the photo above). Steam generators were a feature that was omitted from locomotives built after 1973, and eventually removed from the earlier ones. These were required to heat older passenger cars when the DE10 replaced small steam locomotives on branch lines.
It's also in an older paint scheme (red-body / gray-roof), and while some DE10s still operate in that livery in 2010, it's rapidly being replaced with a gray-lower-body / red-upper-body / gray-roof coloring. In fact, six of the eight DE10s bearing the numbers Kato supplies for the model wear the new paint scheme, and several of them previously wore the blue and gray paint scheme rather than the red-body color (but perhaps they wore the older color in earlier days).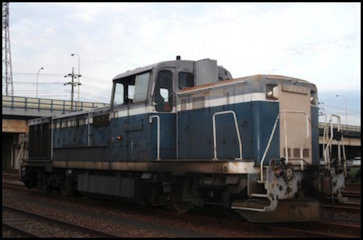 JRF DE10 #1164 (2009) and JRF DE10 #1733 (old color) (2007)
Source: Wikimedia, Photographer:
同上 (both)
Kato supplies snap-in panels with embossed road numbers to decorate the model. The warm-region model comes with 1188, 1192, 1574 and 1581, and the cold region model with 1197, 1202, 1592, and 1598. Of these, only 1202 appears to operate in the Tōkyō region (out of Tabata Depot, which probably means it handles switching jobs related to the JR East passenger cars there) according to online photo and videos I found through Google. And, to make matters worse, although number "1202" is supplied with the cold-weather model, the real one lacks the plow and wipers. Only 1598 is in the right paint scheme and with the correct details (wipers and plow), and it appears to be assigned to Toyama Depot on the Sea of Japan coast. Which, incidentally, means it would look right at home on a layout with a
Toyama Light Rail Portram
.
DE10 1202 is assigned to Tabata Depot, in Kita ward on the north side of Tōkyō, and appears to handle maintenance of way and movements of passenger cars and locomotives assigned to the depot, based on
some online photos
and
video
I've found.
Unfortunately I bought two warm region models, so I don't have the number plates for 1202; perhaps I need a third model...
The DE10 locomotives on my layout will ultimately be used for hauling MOW trains (ballast hoppers and welded rail flat cars) and mixed freights, duties they often serve on the prototype. For that, I need to convert them to DCC. Kato recommends the Digitrax
DN163K1D
decoder (a variant of the more common DN163K1B), which is also used in their GG1 model, so it's readily available. Unfortunately, it isn't quite a drop-in replacement, due to an annoyingly-located resistor and a bit more length than I'd like. After looking at it for a while, I've decided to back off and think a bit before doing anything drastic, but I'm probably going to have to take the unit apart fully and mill a small cavity in the weight for the resistor. Ick.
Note: the Kato recommendation of the DN163K1D is buried on one of their Japanese website flash pages, so I can't link to it. I'm not even sure I could find it again; it was quite well hidden.
I've written up my experiences so far on a
Kato DE10 page
, which has more photos (also added to the Roster photo album and Decoder photo album, depending on their subject). I'll update that page as I do more work on the DE10 models.
Other work has been going on as well, mostly work on the electrical system, which doesn't make for interesting photos, so I haven't taken any. I'll eventually write something up when the current work completes. And, as described below, I decided I was happy with my first photo backdrop, and made a permanent version of it and glued it down.
Other website changes:
- I've been researching DCC decoders for my various Japanese trains. There's more to do and document related to this, but for now I've put what info I have in the summary Roster page (just typical or recommended decoder model numbers, where I know them).
- I've also been working on a scale to reflect the complexity of doing a DCC install. This is so I'll have a shorthand way to remind myself of what's needed. The scale is from 0 (already done by the vendor, which isn't true of an Japanese train today) to 5 (too hard for most people). The details are based on a magazine article I found online, although the numeric rank was my idea. More on this can be found on a new "What Does 'DCC Ready' Mean?" page. The numeric ranks appear as "DCC Difficulty" on the roster page, although at this point I'm still changing them as I learn more (and they'll probably change again once I convert the actual train involved and find out how close my estimate was).
- I made the photographic backdrop on the
River Crossing scene
, which I'd previously tested, permanent this weekend, printing out new copies of the image on matte presentation paper, and gluing it to the backboard. There's some details and a photo on the "phase 2h" construction page, and a pair of large images in the Scenery photo album.
- I've updated the JNS Forum Station Contest page with my plans for the Riverside Commuter Line station, and added the diagrams to the Diagrams photo album. I also added a reference photo of Ochanomizu Station (on the Chūō Main Line and Chūō-Sōbu Line) that I'm using for the contest to my Stations page (a larger copy is on the contest page).
== Comments from old system:
Tuesday, July 20, 2010 - 12:42 PM
Don
Hold off on converting this one just yet. It seems that several recent Kato releases, including the GG1, EF65-500, EF510-500 and this one, simply do not work with the DN163K1x series, for reasons you mention.
westfalen is trying out a Japanese made (NGDCC) decoder designed as a direct replacement for all Kato locos that use this particular light board. I'm going to send Arthur at TCS a query as to whether he anticipates that future US releases will follow suit (the GG1 has only some of the issues you mention) and therefore whether a new decoder design might be coming. Otherwise, I think that I might try to work out a deal with NGDCC to import some of their decoders.
Anyway, there's no reason this loco should have to be modified to convert it…it's silly that Kato is making these new designs and then recommending a decoder that doesn't fit.
Wednesday, July 21, 2010 - 01:53 AM
KenS
I'd been reading that thread, but hadn't put two and two together to realize it would apply to the DE10 also. I may hold off on converting it, but I'd actually been thinking of experimenting with the SDN144K1E sound decoder on one of the two, and I may still try that. Even though there aren't any pre-recorded DE10 sounds, it is a diesel, so some other small switcher would be "close enough" for me.
I agree that Kato's doing a poor job of managing DCC. How hard can it be to design the frame weight to fit the decoder, when they apparently already did that for their DD51? They really are doing a half-hearted job of it.